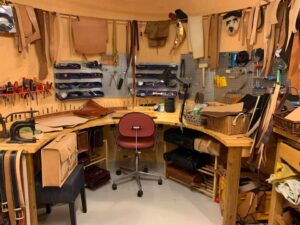 At SYKO you will find unique hand-stitched leather products in a functional, simple and personal design.
At SYKO, we only use vegetable-tanned grain leather.
At SYKO, we can customize all our products according to your wishes, in terms of color, lining, buckles and fittings.
SYKO is a small company located in the heart of Vordingborg.
We, Preben and Dorte, are retired teachers and we are both fascinated by leather and the products we can conjure up from it.
From the collective on Djursland, Preben made shoes, sandals, belts and bags in the 70s, which were sold to shops across the country.
Later, Preben worked for his brother, Niels, who owned the shop "Klæ'r" in the Latin Quarter in Aarhus.
If you have special requests, we will do everything we can to accommodate them.
Get in touch with NEOCPH Crafts & Design and they will mediate.
As all our products are unique, hand-stitched with saddle stitch and made from scratch, you must expect delivery time.
You can find SYKO products in, among others, the NEOCPH Crafts & Design store and in the webshop on this page.